An SEIU Local Union's Mobile App Story | 4/20/2022 17:51
Union Strong Client: NEW YORK CITY LOCAL 246, Service Employees International Union, AFL-CIO, CLC
Client Since: January, 2021
Communication challenge: Quickly getting the word out about job postings and reaching members with important, time-sensitive union information.
Solution: A mobile app that delivers messages instantly to the device that members always keep in their pocket – their smartphone.
Uses the App for…

Job Postings
Union Member Rights Info
Health Updates and Alerts
Benefits Information
Meeting Notices and Reminders
Important News
Election Info


Mark Bardes, Local 246 Recording Secretary

:

"We wanted a quick way to get pertinent information out to our members. Having someplace where it's easy for members to see our updates and then share is really important to our Union… I'm amazed at how fast we can get our info out."
Who They Are
New York City SEIU Local 246 members maintain and repair one of the largest non-military motor fleets in the world – more than 30,000 vehicles for New York City's 20 different agencies, such as Police, Fire, Sanitation and Highway. They literally keep the city running.
What They Post in the App
Mark Bardes, Recording Secretary (and App administrator) at Local 246 thinks that the power of a mobile app is in reaching the right members immediately with information that will benefit them or someone they know.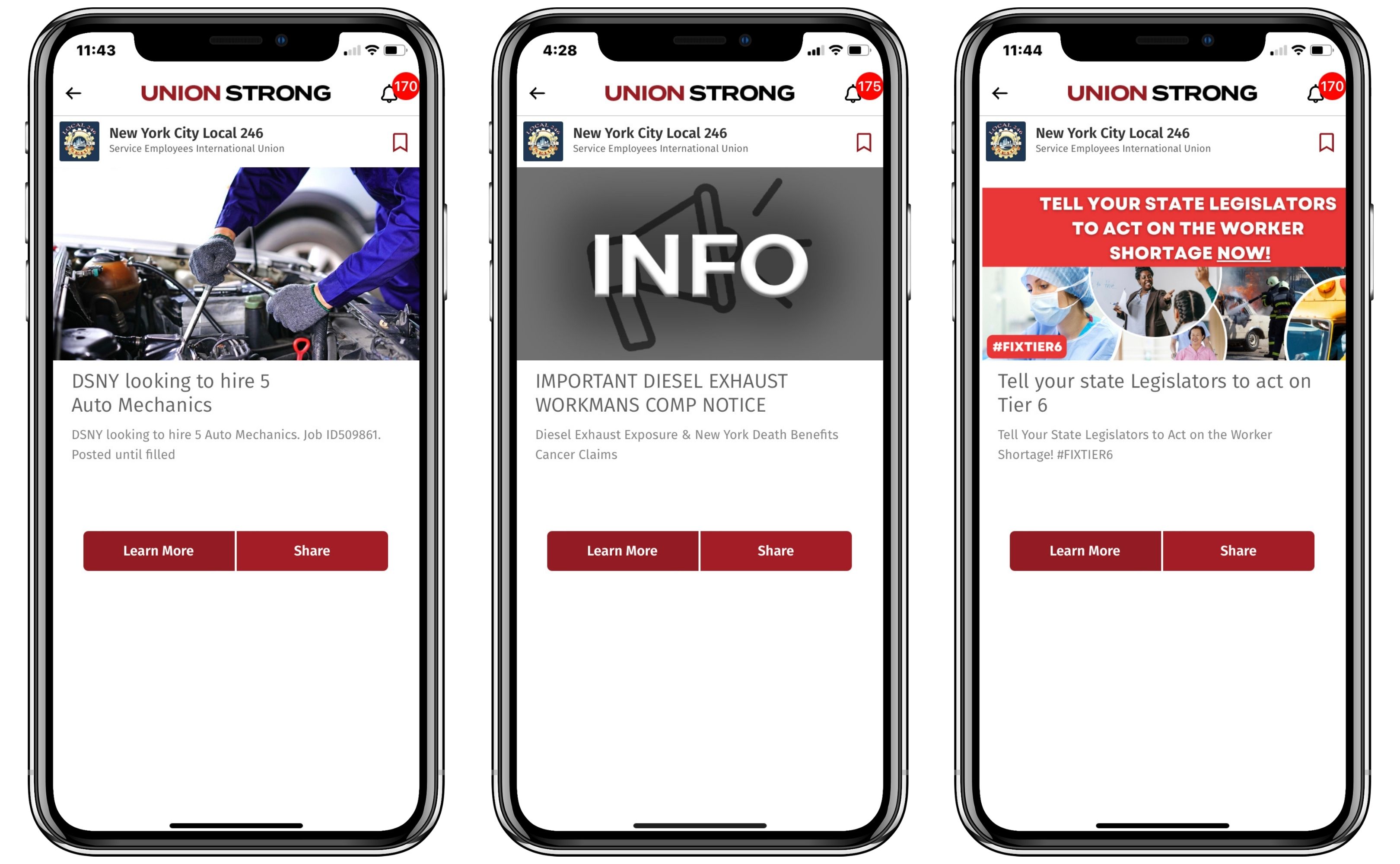 Examples of NYC Local 246 App Posts
Bardes and Local 246 members have found the app particularly useful for job postings. "Our members want to help each other out. To get them a job posting immediately through the app, where it's easy for them to see and then share it, is really important to us." But Bardes notes, "A mobile app is only as powerful as the members you have in it, how they're tagged, and your commitment to use it."
Who They're Talking to (Their Tags)
Local 246 has set up numerous tags – from trade types, to counties, to retiree – as data points and to speak to their specific audiences. Members download the app and select their own tags. App admins can approve/edit tags and manage who sees what.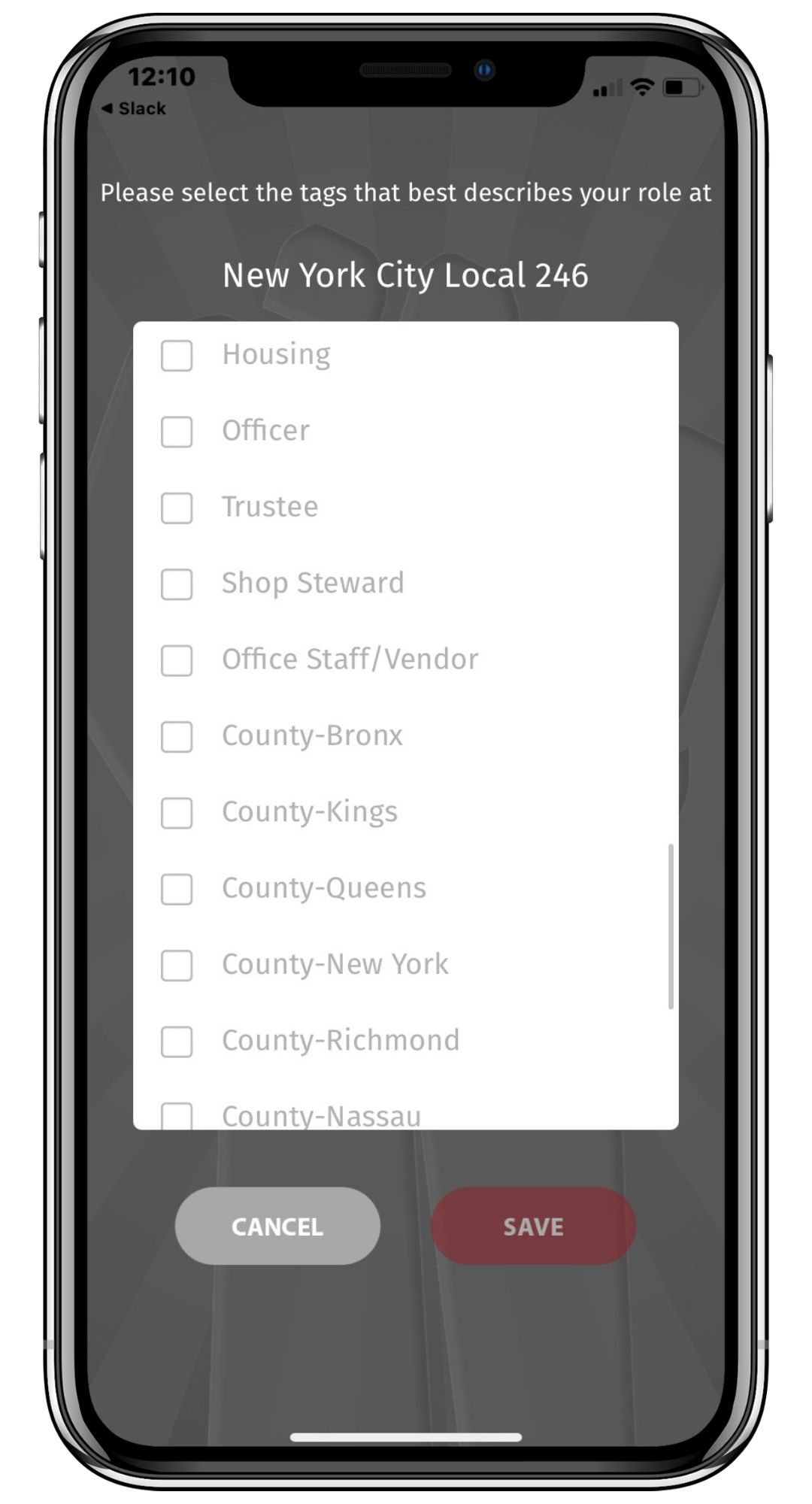 How They Promote Their App
Bardes has investigated many avenues to getting the word out about their mobile app. From printing their app QR code on collateral (such as the union calendar), to posting it in their website footer, to sending it out in newsletter blasts, to hosting an app sign-up raffle where members are only eligible if they "Allow Notifications" in the app. All avenues have contributed to bringing 40% of its membership onboard to date.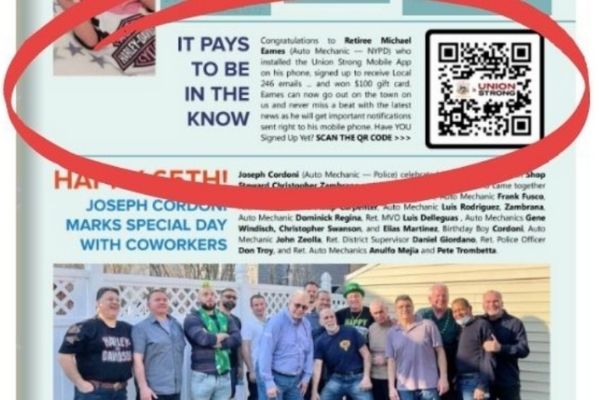 Notification in Local 246 Newsletter of the Union Strong App Download Raffle winner.
What's Working and Why
Bardes has dug into the numbers and found some interesting trends. One would assume that most followers of the app would be in the younger set, but he noticed at one point a full third of all their app followers were retirees. Why? He deduced the call to sign up had gone out repeatedly in their local's newsletter: "And our retirees read the newsletter!"
But when it comes to mobile app communication, Bardes also notes, "This is the thing that young people want. They're not looking at emails. They want a quick message that pops up on their phones."
Local 246 posts content in the app at least once a week. They want followers to see this as a value-add to being in their union. "My thing is finding valuable stuff to send out," says Bardes. "I also love how easy it is to include PDFs or website links in app items." He wants to have all important union information available for members to reference and sees the app as a tool to blast it out.
Unexpected Benefits
Administering the app has become part of Bardes' daily routine. He checks the app each morning for new followers then cross references their membership rolls and email list. He says, "If we don't have their email, I add it from the app. The app has actually helped us build out our email list."
Where to Next?
The app is continuing to gain traction among Local 246 members. Bardes recently targeted shop stewards with an email for feedback about the app. After registering and seeing the content that was posted and being pushed out, one steward replied, "Oh, NOW I see why you wanted me to sign up!" Moving forward, Bardes would also like to start connecting with other unions in the app and begin sharing content.
Union Strong is proud to assist the SEIU Local 246 in reaching and engaging their membership. If you'd like to learn more about their work, please visit their website.
---
Interested in learning more about Union Strong? Sign up for an
upcoming webinar, or

schedule a demo

now!